One taste of Miss Angels Heavenly Pies is truly heavenly!
Our baking is done the old fashioned way, from scratch, using the finest ingredients, and the fruit and berries grown in Miss Angels 65 acre farm and orchard.
The bakery, located on Main Street in Downtown Mount Airy, North Carolina is owned and operated by Angela "Miss Angel" and her husband Randy. Customers passing by Miss Angels can't resist the heavenly smells coming from within the bakery that is operating 7 days a week. Our friendly staff is always preparing a pie or fresh fruit turnover and you will see that freshness is our first priority. We never use preservatives! Any unsold baked goods at the end of the day are distributed among the food banks, charities, and shelters of Surry County to help feed our homeless and hungry.
From apples to peaches and other seasonally grown fruit and berries each fruit pie is made with the freshest, natural ingredients and come in a variety of sizes, from a 5 inch cutie-pie, a turnover, and a 9 inch deep dish pie. We offer over 28 pie flavors. Can't decide between the Mountain Apple or Blueberry or Cherry? Problem solved- order the custom made "double-trouble" pie, which comes with two of your favorite fruit flavors split between the two halves of your pie. For the adventurous there is even our signature Mountain Moonshine Pie.
Beyond the fruit pies, Miss Angels also offers customers favorites like Meringue, Cheesecake, all types of Cream Pies, German Chocolate, Chocolate, Pumpkin Pecan and Pumpkin Pie to name a few. We create all occasion Cakes, Gourmet Cookies, fresh Fruit Danish, Muffins, Scones, Bars of all types, and 8 types of Brownies including our number one selling Moonshine Brownie. We also specialize in all occasion Pies…..let us show you our pie art at its best for your next holiday or birthday. We will custom design a scene, do a floral pie, or letter with the message of your choice to make your pie a masterpiece. Come try our Cannoli's, Italian Love Cake or Tiramisu and taste our freshly baked Breads. We make diabetic friendly and gluten free desserts daily and this year began shipping our gourmet pies to happy customers across the country.
Feel free to call me with any questions you might have, and remember "You may not be able to buy happiness but you can buy one of our pies."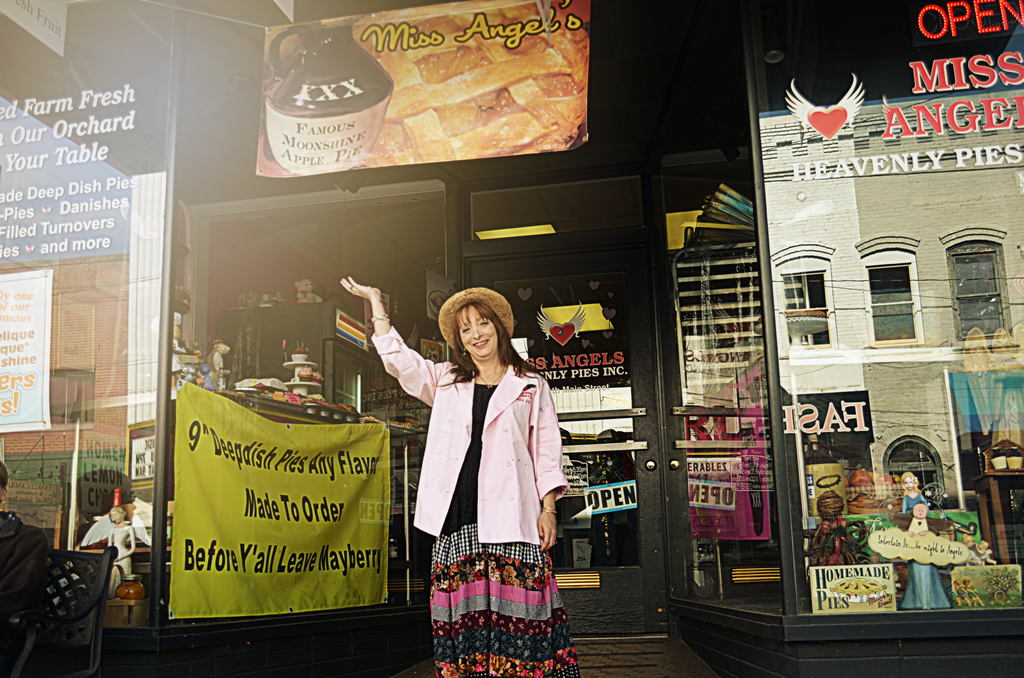 We're Famous!
This Mount Airy Bakery is getting national attention. It is featured in Bake Magazines "Discovering Americas Bakeries" and was featured at the 2013 North Carolina Agritourism Convention as guest speakers in Carolina Beach. We also appeared on AMC channels TV Show "Showville" in a comedy skit, Miss Angel vs. Julia Child.
You can watch or read us online by clicking the following links.
We have been featured on UNC-TV (see our videos page), Roy's Folks (hosted by Chad Tucker) on Fox 8 (WGHP), and have appeared in Our State magazine.