OPEN 9AM – 5:30PM, MON – THU | 9AM – 7PM, FRI – SAT | 10AM – 4:30PM, SUN

OPEN 11:30AM – 5:30PM, MON – THU | 11:30AM – 7PM, FRI – SAT | 11:30AM – 4:30PM, SUN
Our Season
The orchard is CLOSED for the season, we look forward to seeing you in Spring 2023.

Located at 252 Heart Ln, Mt. Airy, NC 27030
Just off of Oak Grove Church Rd (Get Directions)
Call: 336-745-5166
or: 516-317-6338
Orchard Hours / Days Open
Mon – Tues: Closed
Weds – Sat: 9am – 5pm
Sun: 12pm – 5pm
Mount Airy's
1st PICK YOUR OWN
Farm & Orchard
Closed for the season,
see you in Spring 2023!
Our orchard is closed for the season, reopening in Spring 2023.
Our orchard has tons of fun family amenities to make your outing special.
Wednesday's are reserved for field trips and senior outings, to book one of these days for your class or group, please contact us.
CAMPING IS NOW AVAILABLE NIGHTLY!
Camping is now available nightly on our orchard, if you have any questions, please inquire by calling (336) 745-5166,  (516) 317-6338, or emailing farm@missangelsheavenlypiesinc.com. You can sign up / reserve your spot for camping by clicking here.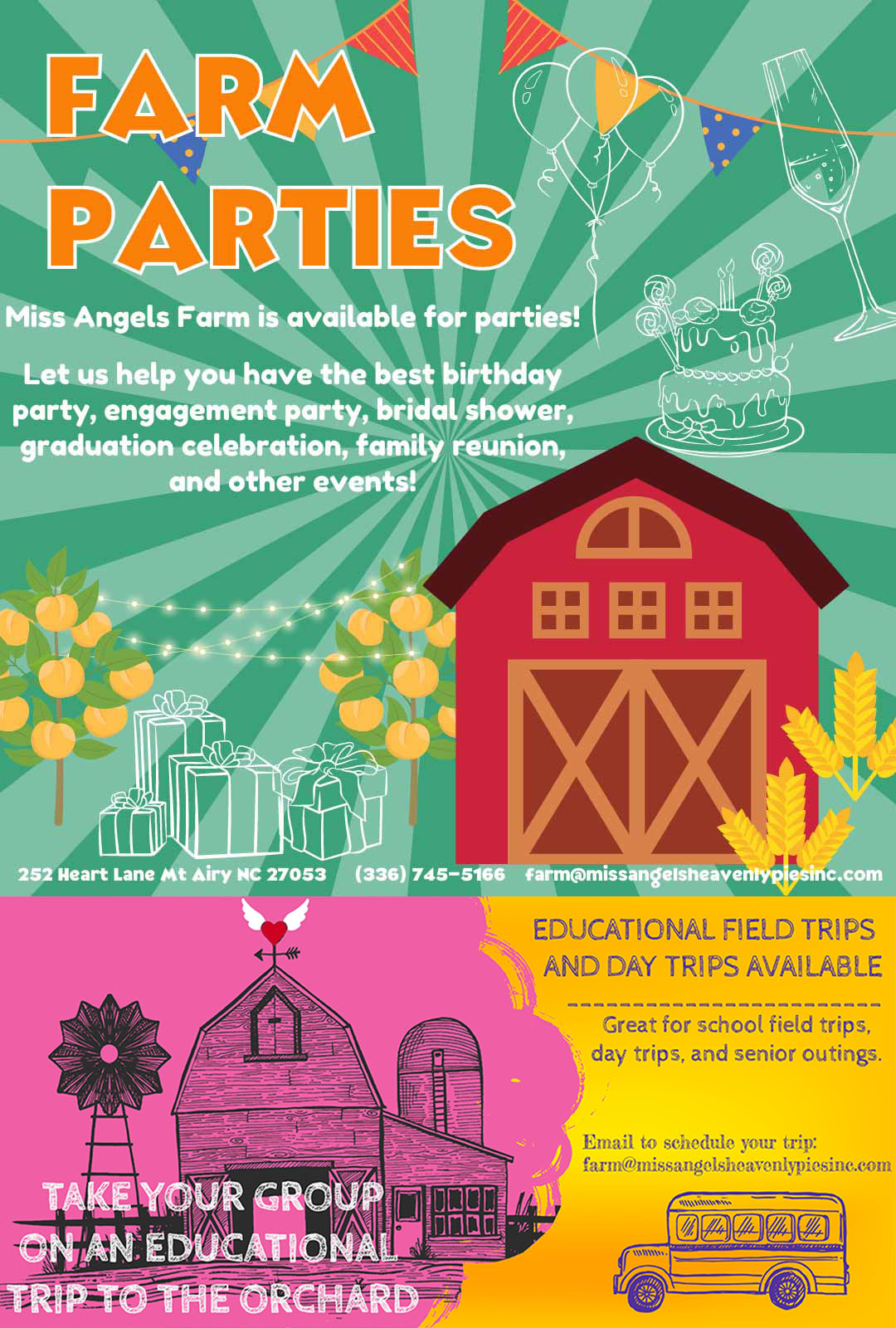 Upcoming Events
Throughout the year we host festivals & other events at Miss Angels Farm & Orchard LLC! Check out our upcoming events below.
NOTE: FOR THE SECURITY OF THESE EVENTS, NO OUTSIDE STROLLERS, CARRIAGES, OR WAGONS ARE ALLOWED ON Miss Angels Farm & Orchard LLC.
ADDITIONALLY, THESE EVENTS ARE CASH ONLY. DEBIT & CREDIT CARDS ARE NOT ACCEPTED.
Special Event of the Month
New special events are coming soon!
Events & Festivals Throughout the Year